Traditional telephony can be a complicated and costly endeavor — especially for global organizations — involving expensive hardware and multiple carriers. Over the past three-plus years, Zoom has focused on creating a phone solution that's easy enough for small and midsize businesses to use and deploy and has all the advanced capabilities large multinational organizations require to support global users.

"Zoom Phone has been incredibly valuable when it comes to keeping our teams connected," said Susan Delaney, Director, Global Network Services at eBay. "The one-click option to elevate calls to meetings allowed our users ease, and reduced time spent, alleviating the need to juggle multiple platforms. Zoom's pricing plans made it easy to roll out a single solution across our offices around the world."

All the surveys at the last 3 years proved the following:
- 90% said our audio quality is better.
- 93% said we were more affordable.
- 86% said our deployment was easier.
- 91% said our global coverage is better.
- 97% said we enabled their remote workforce better.

"Zoom Phone has been an astounding success," said Elka Popova, VP of Connected Work Research at Frost & Sullivan. "Thanks to its innovative pricing model and widespread availability, it has quickly become an attractive option for many SMB and enterprise customers around the world."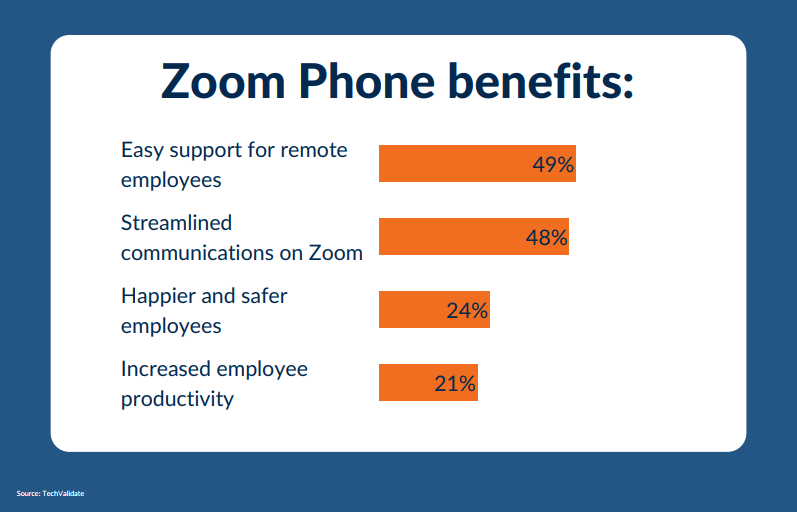 Zoom Phone Surpasses 3 Million Seats Sold

Going from zero to 3 million licenses in just over three years is a testament to the growing need for a rich cloud telephony solution like Zoom Phone. Businesses, schools, and other organizations no longer have to settle for a phone solution; they can choose a comprehensive system that empowers their hybrid teams and strategically scales with their business.

With innovative ​​VoIP service from Zoom, organizations of all sizes can:
Support remote, hybrid, and mobile work styles with comprehensive cloud phone features

Simplify management of voice and video communications with a centralized admin portal

Enhance on-premises safety and security with Nomadic E911, internal safety team alerts when calling 911, and dashboard metrics for emergency location tracking
Improve productivity with integrations to essential applications like Salesforce, Microsoft Teams, and Google G-Suite, and call center integrations with Five9, Genesys, InContact, Talkdesk, and Twilio.

Want more reasons to switch to Zoom? Check out this blog on the benefits of a cloud phone service like Zoom Phone. To get started with Zoom Phone, contact Arkan Integrated Solutions sales team now!