How Electronic Shelf Labels work and what are its benefits?
Although having a printed label for each item in the store is the most common way, but it has many Cons that make this way, not the perfect one to use especially in big stores.
Cons of the printed label:
1- The time and effort spent on producing and replacing the printed labels are too much.
2- They are easily spotted and the spotted label must be replaced by a new one because it's difficult to clean and cannot be reused.
3- Mistakes can't be easily fixed, if any error happened you have to change the label.
4- Paper labels are expensive and each time you need to change the price, you will replace the label and it is a big waste of resources.
5- When the paper label contains a spelling mistake, it must be replaced by a new one.
6- Paper labels can be not easy to read, especially after a long time.
To avoid all those problems there is a great solution available, with a reasonable budget, Electronic Shelf Labels will help you combine cleanliness, clarity, efficiency, professionalism, and avoiding disparate labeling with minimal effort while presenting all the required information about the product in a limited space.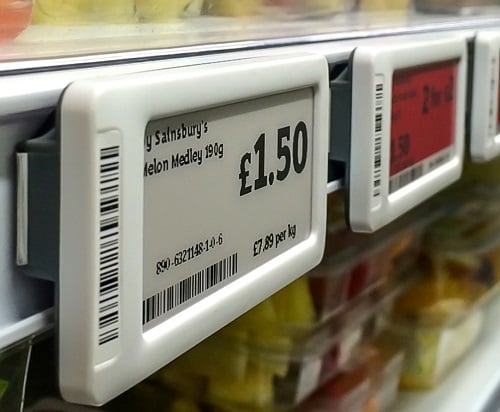 What is Electronic Shelf Labels?
It is a tool used by retailers to display the price of each product to the customer, and the prices automatically updated whenever a price is changed by the communication network.
Electronic Shelf Label allows you to add your promotion prices and guarantees that your customers see all your optimal prices, and it enables you to correct any pricing errors at any time without spending a more time and effort.
ESLs are existing on shelves in a fixed place and you don't need to change its place by time.
After describing Electronic Shelf Labels, now we will present its advantages for your business.
What are the Pros of Electronic Shelf Labels?
Increase accuracy: Prices will be presented clearly, and it takes a few seconds to correct the prices on Electronic Shelf Labels if any error happens.

Save your employees time: your employees' time is better to spend helping customers and accomplish more important tasks than editing price labels.

Increases efficiency: Adding Electronic Shelf Labels to your business means that you will buy them only one time.

It also leads to reducing labor, the material used like paper, ink, and plastic, variable costs, and other management costs.
Improve your business image: Electronic Shelf Labels solution will lead to more social credibility and increase customer satisfaction.

Stock management will be easier: By adopting the Electronic Shelf Labels solution, you will be able to know your stock levels. You can also determine when to run promotions on specific items especially items about to expire you can run promotions before they pass their sell-by-date. Thereby you can decrease your business losses.

More information will be available for your consumers: Additional details will be presented like price per kg or unit, promotion, and stock levels.

The price correction is fast, flexible, and accurate: if any error happened or there are any changes in prices, you can easily change any item's price in a few seconds.
In the end, if you need to make the best decision for your business you have to know that the Electronic Shelf Labels are not as expensive as you think, and it will help you grow your business fast, so if you need to know more about Electronic Shelf Labels or how to find out them just contact us.
Need a solution for your business?
Ask about Arkan's free solution design services.