Although we are in the thick of a digital world, most customers often prefer phone calls to get the support that they need. They prefer a real human who knows every single detail about the product or service. Despite phone calls is the best way to help your customers. But, managing phone support can be a hard challenge for many growing companies. Although it's a great way to help your customers easily, phone support is also the more time-consuming, less cost-effective, and its results not easy to measure.

If you want to offer customer's phone support service, you'll need an effective contact center solution that supports your team, and provide your customers with a high-quality service. Without a contact center solution, customers will be left waiting on hold while agents struggle to answer other customer's questions. Supervisors won't be able to measure service quality because they will focus on how to handle the huge number of calls.


The best Contact Center Solution routes calls to the right agents, rather than passing phone calls on to a different department, and helps to eliminate distractions and paying attention to what employees need to do, that's lead to high-quality service, and increase your employees' productivity. So, whether you're a team of ten or a few hundred, choosing the right solution to build your call center is critical.

Most importantly, a contact center solution that can offer a service that provides flexibility for your operations and increases customer satisfaction. All documents, previous discussions, and messages that can be compiled in one location can give your employees the opportunity to find the best solution for a customer in a short time. Intermodal integration with your many channels, such as phone, website, and social accounts, it empowers employees to have an archive of contacts and touch points but also access to information resources.

When it comes to selecting your provider, the first, and the most important step is identifying your business needs. You want to ensure the contact center solution you choose can integrate easily with any back-office systems, as well as your Customer Relationship Management (CRM) software. Also, you need to ensure the system is user-friendly, making it easy for you to train your team on daily operations.

After you've identified all the requirements, you have to take a look at the best contact center solutions provided below. At least one of them will meet your business, and your team needs. A huge number of customers depend on us as a trusted advisor because we've helped many small businesses implement phone services, including contact center solutions. Leveraging that expertise, we'll give you the top five options you should look into.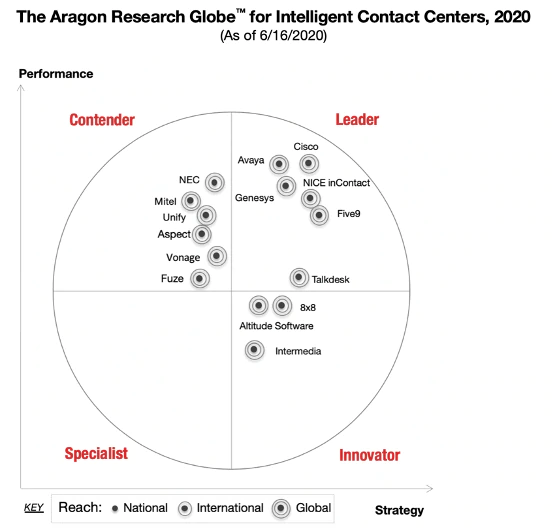 1- Avaya
Avaya is considered one of the most important providers of contact center solution for companies, due to the continuous improvements that help employees reach what they need smoothly and easily, and this also leads to solving problems easier.
In September 2019, Avaya announced a series of Contact Center enhancements, including Avaya Team Spaces for messaging between employees, managers, and customers. Avaya team space is an app that centralizes your team conversations into one place to make connection easier.
Avaya added a new dashboard engine that can measure the customer journey's real-time, it also deepened its AI relationship with Google to add to its existing strengths in AI.
Avaya has its own AI research and development center, which brought Avaya Mobile Experience to the market.
2- Cisco
In 2019 Cisco has made a series of announcements that strengthened its focus on the contact center, with AI at the center. Cisco platforms provide call center representatives with the tools they need to deliver a high-quality customer experience and to achieve a high level of customer satisfaction. Starting from intelligent call routing and omnichannel support to accurate reports and call recording.
Consumers are now using social media to discuss, share their experiences, and connect with their favorite brands. The contact center needs to adjust its strategy to account for this shift in buyer behavior, but social media is big with different sites and platforms. This is where Cisco SocialMiner comes in. It offers the contact center the ability to organize their social media strategy and manage their online social presence from only one place.
3- Five9
Five9 contact center software enables agents to be more effective when they achieve many tasks easily, the can handling customer interactions - deliver a better service experience or increase sales. Its smart Dialers give employees more time with live prospects. Intelligent omnichannel Routing connects customers to the right agent rather than passing phone calls on to a different department, and everything is automatically connected to your CRM.
Five9 provides everything you will need to run an effective service, including interactive voice response (IVR), real-time and historical dashboards and reporting, telephony, workforce management, quality monitoring, CRM integrations, and many features that makes tasks easier.
4- Genesys
The Genesys contact center enables you to choose the capabilities that meet your business needs and increase your return-on-investment. It helps in manage, routes, and reports, it also helps to manage all incoming calls and delivers the customer to the right agent with the right information, and eliminates long hold times. It also allows each agent to respond to customer email enquiries with the same personalized service. It adds AI capabilities to examine emails, determine the best responses, and provide suggested for auto-responses to email.
5- NICE inContent
The continued growth in NICE inContact has thanks to its offering and to its broad partner network.
As an essential response to COVID-19, NICE inContact announced CXone @ home, it enables agents to work remotely. It also focused on helping contact centers achieve their customer experience goals, and easily answer their customer questions and solve their problems.
In January 2020, NICE inContent announced that it was adding its Nexidia AI-based sentiment analysis to enable predictive behavioral routing. NICE inContact has also enhanced its partnerships over the past year with vendors such as RingCentral and also make a new partnership with Zoom.
Related Readings